This article first appeared in the Daily Caller.
The U.S. Supreme Court says each state legislature has "plenary" (complete) power to decide how its state's presidential electors are chosen.
But suppose a state legislature decided to raise cash by selling its electors to the highest bidder. Do you think the Supreme Court would uphold such a measure?
If your answer is "no," then you intuitively grasp a basic principle of constitutional law—one overlooked by those proposing the "National Popular Vote Compact" (NPV).
NPV is a plan to change how we elect our president. Under the plan, each state signs a compact to award all its electoral votes to the presidential candidate who wins the national popular vote. The compact comes into effect when states with a majority of presidential electors sign on.
In assessing the constitutionality of NPV, you have to consider some of its central features. First, NPV abandons the idea that presidential electors represent the people of their own states. Second, it discards an election system balanced among interests and values in favor of one recognizing only national popularity. That popularity need not be high: A state joining the NPV compact agrees to assign its electors to even the winner of a tiny plurality in a multi-candidate election.
Third, because NPV states would have a majority of votes in the Electoral College, NPV would effectively repeal the Constitution's provision for run-off elections in the House of Representatives.
Will Democratic Primary Voters Tolerate a Liberal?
A former Colorado governor will test whether the Sandernistas have taken over the party.
By James Freeman
March 4, 2019 4:55 p.m. ET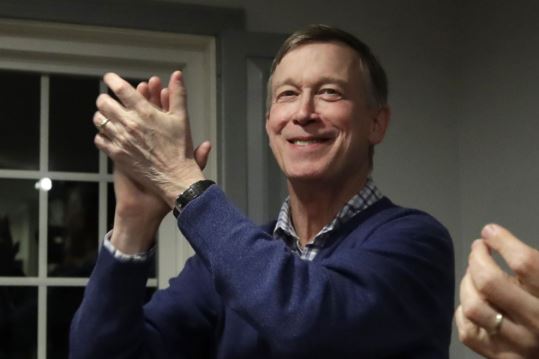 Former Colorado Gov. John Hickenlooper at a campaign house party in Manchester, N.H. last month. PHOTO: ELISE AMENDOLA/ASSOCIATED PRESS
Sen. Bernie Sanders of Vermont is claiming a socialist victory in the battle of ideas. Meanwhile former Colorado Gov. John Hickenlooper is running for President and testing whether economic non-extremists can still win Democratic presidential primaries.
Sunday in Chicago, Mr. Sanders implied that people no longer view him as a Marxist kook. The Chicago Tribune reports on a Sanders speech at Navy Pier:
"Three years ago, they thought we were kind of crazy and extreme, not the case anymore," he said. "We are not only going to defeat (President Donald) Trump, we are going to transform the United States of America."
Mr. Sanders has certainly made extremism cool among Democratic presidential candidates. All of his fellow senators seeking the party's nomination have joined him in co-sponsoring the Green New Deal and its promise of government health care and the end of traditional energy sources. They have also voted for an abortion policy so expansive that it allows adults to decide the fate of children even when they are no longer in the womb. Continue reading →
We've searched the Bill of Rights but can't find anything where healthcare is a "right" contrary to what several presidential candidates say. In case you forgot, the Supreme Court ruled Obamacare was a "tax" not a "right"
Who's Deplorable Now?
Democrats wonder if they still need the Midwest.
By James Freeman
Feb. 25, 2019 5:08 p.m. ET
Election night at the New York Hilton Midtown on November 8, 2016. PHOTO: SPENCER PLATT/GETTY IMAGES
It must be exhausting these days serving as a Democratic political operative. The party remains in a seemingly endless debate over how much to favor some demographic groups of American voters—and how much to punish others.
At one point there seemed to be a Democratic consensus that the party's disappointing performance in 2016 had a lot to do with ignoring or deploring blue-collar voters in the Midwest. And at least some of the party's current and potential 2020 presidential candidates still hold this view.
This week in the New York Times, Jonathan Martin and Alexander Burns report from Iowa:
With polls indicating that electoral viability is as important to voters as any policy issue, a handful of the party's prospects are already holding up their Midwestern credentials to make the case that they are the ones who can turn Big 10 country — Pennsylvania, Michigan, Wisconsin — blue again.
But the Timesmen add: Continue reading →
Bill to link Colo.'s presidential choice to national vote heading to Senate floor
JakeOlimb / iStock
A bill that would pledge all of Colorado's nine electoral votes in presidential elections to the candidate who wins the national popular vote passed a state Senate committee Wednesday, sending it to the Senate floor for a vote.
Scores of professors, activists, lobbyists, and citizens filled the committee's room, the nearby hallway, and a spillover room to hear the debate. Among them: newly elected Secretary of State Jena Griswold.
The bill is a partisan issue, some say, a rebuke of Donald Trump's election in 2016. And many warned of unintended consequences, deepening fractures in an already-divided country. Continue reading →