INTERVIEW: Jared Polis on energy, death penalty, TABOR and more
Author: Next with Kyle Clark, 9News – November 9, 2018 –
Colorado Gov.-elect Jared Polis is interviewed Nov. 7 on "Next with Kyle Clark." (KUSA-9News, Denver)
Shortly after he was elected governor of Colorado, Jared Polis sat down with 9News anchor Kyle Clark to discuss his historic victory and his plans.
During a 10-minute conversation, which aired Nov. 7 on 9News' "Next with Kyle Clark," the Democrat weighed in on oil and gas regulation, the death penalty, TABOR and taxes, and on being America's first openly gay candidate to be elected governor.
Here's a transcript of Clark's interview with Polis. And watch the full interview below.
Kyle Clark: Governor Elect Jared Polis, congratulations. Welcome back to "Next."
Jared Polis: Thank you, Kyle. Pleasure to be here.

Clark: Colorado voters gave Democrats sweeping control of state government last night, yet they also rejected two statewide tax increases and rejected increased restrictions on oil and gas drilling. What's your takeaway from all that together? Continue reading →
Admin's note: Vote NO on 73. It's not "for the kids" as supporters of this TAX INCREASE say. This ballot question is a liberals spending dream and an end run around TABOR. Education already gets a funding increase every year since Amendment 23 passed in 2000. It's too bad that student's achievement results didn't rise. More money does not equal better outcomes. TABOR will survive this misguided attempt.
Ballot initiative seeks to increase taxes by $1.6 billion; could end Colorado's Taxpayer Bill of Rights
A controversial ballot initiative would raise taxes on Coloradans by $1.6 billion to increase funding for public schools if approved. Opponents argue it also would make the constitutionally protected Taxpayer Bill of Rights (TABOR) impotent.
Amendment 73, the Establish Income Tax Brackets and Raise Taxes for Education Initiative, seeks to amend the state constitution to replace Colorado's flat rate income tax with a progressive income tax. Individuals earning more than $150,000 would be taxed more and the corporate income tax rate would increase. The revenue collected from the tax hikes would go into a newly created Quality Public Education Fund.
The state constitution requires a 55 percent supermajority vote for the initiative to become law.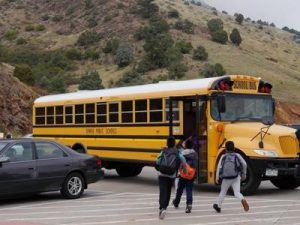 "'Take your success elsewhere' should be the signs erected if Colorado approves Amendment 73," Penn Pfiffner, former state legislator and chairman of the board of the TABOR Foundation, told Watchdog.org. "The Taxpayer's Bill of Rights properly treats everyone equally, requiring the same income tax rate be applied to everyone. Currently, if you make more money, you pay more, but only at the rate that everyone else pays. This proposal would change that, bringing an attitude that the upper middle class and wealthy should be attacked and made to pay increasing amounts. It is the worst concept in raising taxes."
A group of opponents of the measure launched a "Blank Check. Blatant Deception. Vote No on 73," campaign, arguing the ballot language is deceptive. It tried to have the question removed after the required deadline and Colorado's secretary of state rejected its complaint. Continue reading →
Join the Reagan Club this Thursday, October 4th as Michael Fields will discuss the pros and cons of each ballot initiative on your November 6th Mail-in Ballot.  He will explain the who, what, why, when, and costs of each.  So many questions to vote intelligently but we have the have the answers!
Doors open at 6:00pm with the meeting starting at 6:30pm and dinner served after the prayer and announcements.  We meet at Amazing Grace Community Church, 541 E 99th Place in Thornton.  Admission is $20 for Reagan Club members and $25 for non-members.  Elected officials and announced candidates are $15.
Save $5 by buying your tickets before October 2nd on our website (www.ReaganClubCo.com/meeting-tickets).
Bring your questions as we'll find out what is best for Colorado.
See you there!
Michael Fields is the Executive Director of Colorado Rising Action. He was previously the State Director of Americans for Prosperity – Colorado. He brings years of educational, legislative, grassroots organizing, and nonprofit experience. He has also served as a policy aide at the Colorado State House and as a press aide for the Senate Committee on Health, Education, Labor & Pensions. He taught both elementary and middle school at a charter school in Aurora – and now serves as the governing board president of that school. Michael graduated from Valparaiso University and earned his J.D. from University of Colorado – Boulder. He and his wife, Mele, and their three children live in Littleton.–
Michael Fields
Executive Director
Colorado Rising Action
720-218-9478
Michael Fields leaves Americans for Prosperity to lead Colorado Rising Action
Author: Joey Bunch – July 30, 2018 – Updated: July 30, 2018
Michael Fields (Photo courtesy of Americans for Prosperity)
Michael Fields is leaving Americans for Prosperity to head up a conservative organization that aims to press Colorado liberals on the issues.
Colorado Rising Action announced Fields as its executive director Monday. The organization is a state-based offshoot of America Rising Squared, which is an offshoot of America Rising, a group known for tracking candidates and opposition research.
The nonprofit is much like the liberal nonprofit ProgressNow Colorado, except for the right.
Colorado Rising Action said in a press release it plans to "advance conservative principles through cutting-edge research, rapid response communications, a nationwide tracking network, and digital platforms."
Fields, 31, previously was state director for Americans for Prosperity Colorado. Last year he became senior director of issue education nationally for AFP's foundation.
"Michael has years of experience at all levels of government and brings incredible insight into Colorado politics and policies," Joe Pounder, America Rising's founder and president, said in a statement. "Colorado is in danger of its status as a 'purple state' turning blue, but Colorado Rising Action has even more talent on the ground now to make sure that liberal politicians and special interest groups answer to Coloradans."
To be clear, Colorado Rising Action is not affiliated with Colorado Rising, a group seeking to get an initiative on the November ballot to require 2,500-foot setbacks from homes and businesses for oil and gas operations.
Colorado represents the organization's second foray into state politics, joining Missouri. Colorado, however, becomes the only state with an executive director and a press person, Lindsey Singer, the niece of billionaire investor Paul Singer, who is a major donor to America Rising. Lindsey Singer grew up in Boulder and attended Fairview High School and the University of Colorado Boulder.
They are joined by adviser Matt Connelly, who formerly worked on Republican gubernatorial candidate Walker Stapleton's campaign. Though he continues to work for Denver-based Clear Creek Strategies, the firm running Stapleton's campaign, he cannot by law coordinate between the campaign and the nonprofit.
"Colorado is a great place to live and raise a family, and the work I've done with AFP and will continue to do with Colorado Rising Action will ensure it stays that way," Fields said in a statement Monday. "As a new part of the incredible network of conservative organizations in Colorado, we will make sure that Coloradans know what liberal special-interest groups and their politicians are doing, and the impacts they'll have on our state."
A former pitcher at Valparaiso University and teacher in Aurora, Fields joined AFP after working as a policy aide for Republicans in the Colorado legislature and for Wyoming Republican Sen. Mike Enzi, as well as working on local, state and federal political campaigns.
ProgressNow Colorado executive director Ian Silverii was amused by his conservative competition, characterizing it as "Regress Later."
He pivoted to the November election. It's what political advocacy groups do.
"This Washington, D.C.-based organization is a front group to help Walker Stapleton continue to fall upwards in his so-far disastrous career," Silverii said in response to Fields' announcement. "All the out-of-state money in the world can't cover up the fact that Stapleton is an absentee treasurer, a sloppy campaigner and a vocal Trump supporter who does not deserve the promotion he's asking Coloradans for."
Singer responded to Silverii's take:
"We're looking at races from the governor's race, AG race, some congressional, and state house, state Senate and even watching the ballot initiatives and what liberal groups are doing in Colorado It isn't about one candidate or one race, and we're going to be around long after the 2018 election season."
Click (HERE) for the link to see and/or download the 2018 Colorado Blue Book.
Little-known flood-control district asks Denver metro voters for first tax hike
Urban Drainage and Flood Control District proposes tax-restoration measure on Nov. 6 ballot
Andy Cross, The Denver Post
Greenway Foundation educator Kate Ronan, right, checks Annalena Tylicki's net for bugs and other living creatures she collected in the South Platte River during a SPREE day camp at the restored Johnson-Habitat Park on June 9, 2015. The restoration, which included improvements to reduce flood risk, was paid for partly by the Urban Drainage and Flood Control District.
By JON MURRAY | jmurray@denverpost.com | The Denver Post
September 13, 2018 at 6:00 am
In an election season full of proposed tax hikes, one of the less familiar ballot measures facing voters across the Denver metro area this fall comes from a regional district that aids dozens of cities and counties in flood control.
The little-known Urban Drainage and Flood Control District hasn't asked for an increase in its property tax since its formation nearly five decades ago. That means it has actually lost ground, with its tax rate falling by 44 percent since the early 1990s under revenue growth limits in the voter-passed Taxpayer's Bill of Rights.
On the Nov. 6 ballot, the district's Ballot Issue 7G asks voters across its jurisdiction for permission to restore its full taxing authority, as many cities, counties and other special districts have done. The district covers 1,600 square miles across Denver and all or part of Boulder, Broomfield, Jefferson, Adams, Arapahoe and Douglas counties.
Next year, a partial increase is expected to generate $14.9 million. Further increases within the restored limit would be left up to the district's board, made up of elected officials from around the region, the UDFCD says.
Once that happens, the full tax increase would raise an estimated $24 million a year, doubling the current funding level for projects and programs. The hit for the owner of a $400,000 home would be an extra $13 a year.
The flood-control district faces no organized opposition to its proposed tax increase, but it does face a big challenge: Most voters don't know what the district is or what it does.
To read the rest of this Denver Post story, click (HERE):
Talking Points
The topics that will dominate candidates' messaging throughout the campaign season.
Growth
It is the best of times…or is it the worst of times? That depends a lot on how you feel about Colorado's growth. "Normally, the economy would be the highest issue for most voters," Paul Teske, a dean at CU Denver, says. "There will be a lot of talk about sustaining the boom." But, adds DU's Seth Masket: "There are a lot of different areas of the state that are adversely affected by this growth." Transportation has become a perennial funding battle at the Capitol and could benefit from strong gubernatorial influence (read: political pressure) to make Republicans and Democrats find bipartisan ways forward. Meanwhile, the unemployment rate in Colorado is three percent (it was 8.9 percent at the end of 2010), which on its face is great news, but that near-full employment causes woes for companies desperate to fill jobs. Wages—particularly in the metro area—haven't kept up with cost-of-living expenses, which means that although people are finding work, they may not be able to pay bills. And the biggest expense for many voters is rising housing costs. Mix that all together, and the moment is prime for a gubernatorial candidate to stand out by creating a unique vision for Colorado's future.
Education
This may seem like a topic that matters most to people who are raising families, but this year, candidates will compel everyone to think about Colorado's education system (funding here ranks in the bottom third of all states in the country). Which makes sense: Property owners help pay for schools, employers benefit from a well-prepared workforce, and we all want the best for society's youngsters, right? But how we ensure we have a strong education system is quite a bit more complicated. Magellan Strategies' David Flaherty says Republican candidates should be talking about education right now and through November. "It's the one issue we completely give to the Democrats," Flaherty says. "It's unfortunate because it's one of the top two issues for unaffiliated voters."
Tabor
Conversations about addressing growing pains or giving more money to teachers inevitably evolve into talks about what to do about Colorado's Taxpayer Bill of Rights (TABOR), which limits government spending to match population growth and inflation increases.
Under TABOR, which passed in 1992, leftover revenue is returned to the taxpayers. Proponents herald the limits on government spending; detractors warn that TABOR isn't robust enough to respond to real-time needs, like shifting populations in schools due to high housing costs.
But Coloradans tend to like the control TABOR gives them: A January 2018 report from the American Politics Research Lab at CU Boulder found that "support among Coloradans outpaces opposition," with 45 percent of respondents supporting TABOR.
That number has fallen since 2016, and the study notes that more than a quarter of respondents had "uncertainty about a position." In short, there's room for candidates to make TABOR the issue of the campaign.
Republican candidates are likely to support working within TABOR's constraints. Democrats will probably talk more about reform or repeal.
Guns