Get ready to be engaged and informed with The Reagan Club of Colorado's 2019 speakers at our monthly meetings.  We meet on the second Thursday of month from 6:00pm-8:30pm at CB & Potts, 1257 W. 120th Avenue, Westminster, CO, 80234.  Admission is $5 for Reagan Club members and $10 for non-members.
Our 2019 annual dues are $30, $25 for 65+ years old seniors, $25 for elected officials, $15 for students under 21, and $55 for couples ($50 for senior couples).  You can pay your 2019 dues at the door or online at: http://www.reaganclubco.com/membership-dues/
Be engaged and informed at our Thursday meeting.  Pinch hitting for our previously announce
d speaker, Patrick Neville, is former state senator Tim Neville.  Tim has graciously 
agreed to fill in for son Patrick who has a business matter to attend to.  Tim has been a welcome guest at Reagan Club before.  We look forward to Tim's news and analysis. 
We know February 14 is on the calendar for other than the Reagan Club meeting — we'll be marking that, too!
See you the 14th.
If you are planning to attend,  Continue reading →
Effort launched to repeal Taxpayer's Bill of Rights; possible ballot issue before the Title Board
The Title Board is the first step in putting a citizen-initiated question before voters.
TABOR is a constitutional amendment that was passed by voters in 1992 that requires voter approval to increase taxes or take on new debt.  It also limits the growth of a portion of the state budget to a formula of population growth plus inflation. It has been a controversial topic since its inception, and it's been debated in the courts numerous times.
Many Democrats say it is a threat to Colorado's education, transportation and health care funding, while Republicans counter that it is what has allowed the Colorado economy to prosper, as well as allowing Colorado to more easily weather economic downturns than states that lack taxpayer protections such as TABOR.
Many attempts to repeal or tweak portions of the amendment have come before the Title Board. This is the first time, however, that anyone can recall where a full repeal of the amendment has been proposed.
In 2019, the Reagan Club of Colorado is moving our monthly meetings to the second Thursday of each month to inform and engage you from 6:00pm-8:30pm.  We've moved our meeting location back to CB & Potts (1257 W. 120th Avenue, Westminster, CO, 80234).  Admission is $5 for Reagan Club members and $10 for non-members.  Our 2019 annual dues are $30, $25 for 65+ years old seniors, $25 for elected officials, $15 for students under 21, and $55 for couples ($50 for senior couples).  Below is our tentative calendar:
Mar 14:  Steve House, former Colorado State GOP Chair
Apr 11:
May 9:
Jun 13:
Jul 11:
Aug 8:
Sept 12:
Oct 10:
Nov 14:
Dec 12:
INTERVIEW: Jared Polis on energy, death penalty, TABOR and more
Author: Next with Kyle Clark, 9News – November 9, 2018 –
Colorado Gov.-elect Jared Polis is interviewed Nov. 7 on "Next with Kyle Clark." (KUSA-9News, Denver)
Shortly after he was elected governor of Colorado, Jared Polis sat down with 9News anchor Kyle Clark to discuss his historic victory and his plans.
During a 10-minute conversation, which aired Nov. 7 on 9News' "Next with Kyle Clark," the Democrat weighed in on oil and gas regulation, the death penalty, TABOR and taxes, and on being America's first openly gay candidate to be elected governor.
Here's a transcript of Clark's interview with Polis. And watch the full interview below.
Kyle Clark: Governor Elect Jared Polis, congratulations. Welcome back to "Next."
Jared Polis: Thank you, Kyle. Pleasure to be here.

Clark: Colorado voters gave Democrats sweeping control of state government last night, yet they also rejected two statewide tax increases and rejected increased restrictions on oil and gas drilling. What's your takeaway from all that together? Continue reading →
Admin's note: Vote NO on 73. It's not "for the kids" as supporters of this TAX INCREASE say. This ballot question is a liberals spending dream and an end run around TABOR. Education already gets a funding increase every year since Amendment 23 passed in 2000. It's too bad that student's achievement results didn't rise. More money does not equal better outcomes. TABOR will survive this misguided attempt.
Ballot initiative seeks to increase taxes by $1.6 billion; could end Colorado's Taxpayer Bill of Rights
A controversial ballot initiative would raise taxes on Coloradans by $1.6 billion to increase funding for public schools if approved. Opponents argue it also would make the constitutionally protected Taxpayer Bill of Rights (TABOR) impotent.
Amendment 73, the Establish Income Tax Brackets and Raise Taxes for Education Initiative, seeks to amend the state constitution to replace Colorado's flat rate income tax with a progressive income tax. Individuals earning more than $150,000 would be taxed more and the corporate income tax rate would increase. The revenue collected from the tax hikes would go into a newly created Quality Public Education Fund.
The state constitution requires a 55 percent supermajority vote for the initiative to become law.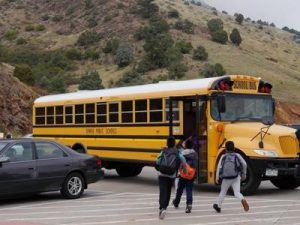 "'Take your success elsewhere' should be the signs erected if Colorado approves Amendment 73," Penn Pfiffner, former state legislator and chairman of the board of the TABOR Foundation, told Watchdog.org. "The Taxpayer's Bill of Rights properly treats everyone equally, requiring the same income tax rate be applied to everyone. Currently, if you make more money, you pay more, but only at the rate that everyone else pays. This proposal would change that, bringing an attitude that the upper middle class and wealthy should be attacked and made to pay increasing amounts. It is the worst concept in raising taxes."
A group of opponents of the measure launched a "Blank Check. Blatant Deception. Vote No on 73," campaign, arguing the ballot language is deceptive. It tried to have the question removed after the required deadline and Colorado's secretary of state rejected its complaint. Continue reading →
What if Obama Voters Remember How Lousy the Obama Era Was?
The left worries that young people and minorities don't hate Trump enough.
By James Freeman
Oct. 12, 2018 5:01 p.m. ET
Former President Barack Obama campaigns for Democratic candidates in Pennsylvania last month. PHOTO: MATT ROURKE/ASSOCIATED PRESS
During the Obama administration there was much confident chatter on the left about the "coalition of the ascendant." This rising population of young people, social liberals and minority voters not only carried Barack Obama to two national victories but was allegedly destined by demography to exert an increasing leftward tug on American politics. The potential problem for leaders of this coalition is that along the way some of their followers may have noticed the results of their policies.
A few warning signs have been appearing lately as the Obama generation makes it way into the workplace and as minority voters seem unwilling to hate President Donald Trump as much as Democratic politicians and the press expect them to do.
"It's time for some alarm about the midterms," writes David Leonhardt of the New York Times. "The most recent polls have underscored the real possibility that Republicans will keep control of both the Senate and House." According to Mr. Leonhardt:
Democrats now appear highly unlikely to take back the Senate, which was always going to be hard for them, given the conservatism of the states holding Senate elections this year. And while Democrats are still favored to win the House, many races remain so close — with neither candidate yet polling above 50 percent — that they could break either way in the final weeks. It's easy to see a scenario in which many Democratic-leaning voters fail to turn out, as often happens in the midterms, and many Republican-leaning voters remain loyal to the party.
How could turnout possibly be a problem for Democrats, given all of the rage from professional leftists directed at Mr. Trump? Apparently amateur leftists aren't as angry and in many cases may not even be leftists. Continue reading →