Will Democratic Primary Voters Tolerate a Liberal?
A former Colorado governor will test whether the Sandernistas have taken over the party.
By James Freeman
March 4, 2019 4:55 p.m. ET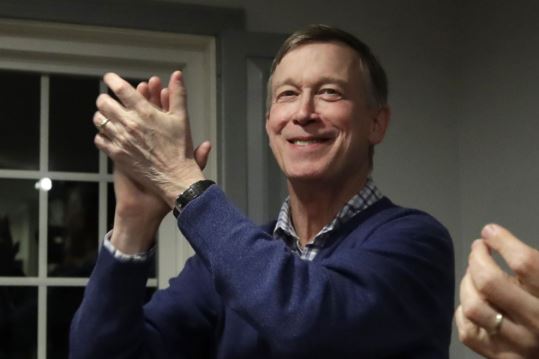 Former Colorado Gov. John Hickenlooper at a campaign house party in Manchester, N.H. last month. PHOTO: ELISE AMENDOLA/ASSOCIATED PRESS
Sen. Bernie Sanders of Vermont is claiming a socialist victory in the battle of ideas. Meanwhile former Colorado Gov. John Hickenlooper is running for President and testing whether economic non-extremists can still win Democratic presidential primaries.
Sunday in Chicago, Mr. Sanders implied that people no longer view him as a Marxist kook. The Chicago Tribune reports on a Sanders speech at Navy Pier:
"Three years ago, they thought we were kind of crazy and extreme, not the case anymore," he said. "We are not only going to defeat (President Donald) Trump, we are going to transform the United States of America."
Mr. Sanders has certainly made extremism cool among Democratic presidential candidates. All of his fellow senators seeking the party's nomination have joined him in co-sponsoring the Green New Deal and its promise of government health care and the end of traditional energy sources. They have also voted for an abortion policy so expansive that it allows adults to decide the fate of children even when they are no longer in the womb. Continue reading →
Boulder lawmakers have introduced Senate Bill 19-181, anti-oil and gas legislation that could have devastating impacts for over 100,000 hard-working families in our industry. The bill sponsors failed to hold a legitimate stakeholder process, never showed industry trades the bill, mislead Coloradans about how our rules haven't been updated in 60 years, and are holding the first hearing just one business day after the bill was introduced.
The bill will be heard in the Senate Transportation & Energy Committee at 2:00 PM on Tuesday, March 5th in Senate Committee Room 357 (third floor of Capitol).
The time to stand up for your job is NOW. Legislators need to hear our voices and see our faces. We can make a difference, but it will take all of us. Please take action using the steps below and share with friends and colleagues!
Rally to protect our jobs. We are calling all members of industry to gather at the State Capitol at 12:00 PM on Tuesday before the committee hearing. Share the flyer and Facebook event with friends and colleagues.
Testify in opposition to the bill. After the rally, industry members need to go inside the Capitol to testify in opposition to the bill. Legislators must hear your personal, passionate energy story. Check out these tips for testifying in a legislative committee hearing. Need to brush up on your facts? COGA's fact sheets can help!
Contact senators on the committee. Email and call the senators listed below, starting with the Democrats on the committee. Ask them to protect your job in this industry that is critical to Colorado's economy.
Sen. Faith Winter (D-Adams) Committee Chair
faith.winter.senate@state.co.us

303-866-4863
Sen. Brittany Pettersen (D-Jefferson) Committee Vice Chair
brittany.pettersen.senate@state.co.us

303-866-4859
Sen. Kerry Donovan (D-Eagle)
kerry.donovan.senate@state.co.us

303-866-4871
Sen. Mike Foote (D-Boulder)
mike.foote.senate@state.co.us

303-866-5291
Sen. Dennis Hisey (R-El Paso)
dennis.hisey.senate@state.co.us

303-866-4877
Sen. Kevin Priola (R-Adams)
kpriola@gmail.com

303-866-4855
Sen. Ray Scott (R-Mesa)
ray.scott.senate@state.co.us

303-866-3077
Who's Deplorable Now?
Democrats wonder if they still need the Midwest.
By James Freeman
Feb. 25, 2019 5:08 p.m. ET
Election night at the New York Hilton Midtown on November 8, 2016. PHOTO: SPENCER PLATT/GETTY IMAGES
It must be exhausting these days serving as a Democratic political operative. The party remains in a seemingly endless debate over how much to favor some demographic groups of American voters—and how much to punish others.
At one point there seemed to be a Democratic consensus that the party's disappointing performance in 2016 had a lot to do with ignoring or deploring blue-collar voters in the Midwest. And at least some of the party's current and potential 2020 presidential candidates still hold this view.
This week in the New York Times, Jonathan Martin and Alexander Burns report from Iowa:
With polls indicating that electoral viability is as important to voters as any policy issue, a handful of the party's prospects are already holding up their Midwestern credentials to make the case that they are the ones who can turn Big 10 country — Pennsylvania, Michigan, Wisconsin — blue again.
But the Timesmen add: Continue reading →
Get ready to be engaged and informed with The Reagan Club of Colorado's 2019 speakers at our monthly meetings.  We meet on the second Thursday of month from 6:00pm-8:30pm at CB & Potts, 1257 W. 120th Avenue, Westminster, CO, 80234.  Admission is $5 for Reagan Club members and $10 for non-members.
Our 2019 annual dues are $30, $25 for 65+ years old seniors, $25 for elected officials, $15 for students under 21, and $55 for couples ($50 for senior couples).  You can pay your 2019 dues at the door or online at: http://www.reaganclubco.com/membership-dues/
Be engaged and informed at our Thursday meeting.  Pinch hitting for our previously announce
d speaker, Patrick Neville, is former state senator Tim Neville.  Tim has graciously 
agreed to fill in for son Patrick who has a business matter to attend to.  Tim has been a welcome guest at Reagan Club before.  We look forward to Tim's news and analysis. 
We know February 14 is on the calendar for other than the Reagan Club meeting — we'll be marking that, too!
See you the 14th.
If you are planning to attend,  Continue reading →