Will Democratic Primary Voters Tolerate a Liberal?
A former Colorado governor will test whether the Sandernistas have taken over the party.
By James Freeman
March 4, 2019 4:55 p.m. ET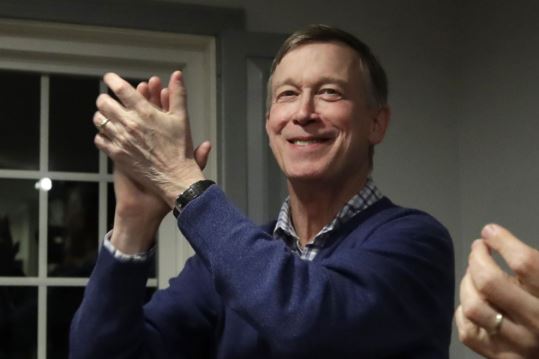 Former Colorado Gov. John Hickenlooper at a campaign house party in Manchester, N.H. last month. PHOTO: ELISE AMENDOLA/ASSOCIATED PRESS
Sen. Bernie Sanders of Vermont is claiming a socialist victory in the battle of ideas. Meanwhile former Colorado Gov. John Hickenlooper is running for President and testing whether economic non-extremists can still win Democratic presidential primaries.
Sunday in Chicago, Mr. Sanders implied that people no longer view him as a Marxist kook. The Chicago Tribune reports on a Sanders speech at Navy Pier:
"Three years ago, they thought we were kind of crazy and extreme, not the case anymore," he said. "We are not only going to defeat (President Donald) Trump, we are going to transform the United States of America."
Mr. Sanders has certainly made extremism cool among Democratic presidential candidates. All of his fellow senators seeking the party's nomination have joined him in co-sponsoring the Green New Deal and its promise of government health care and the end of traditional energy sources. They have also voted for an abortion policy so expansive that it allows adults to decide the fate of children even when they are no longer in the womb. Continue reading →
Get ready to be engaged and informed with The Reagan Club of Colorado's 2019 speakers at our monthly meetings.  We meet on the second Thursday of month from 6:00pm-8:30pm at CB & Potts, 1257 W. 120th Avenue, Westminster, CO, 80234.  Admission is $5 for Reagan Club members and $10 for non-members.
Our 2019 annual dues are $30, $25 for 65+ years old seniors, $25 for elected officials, $15 for students under 21, and $55 for couples ($50 for senior couples).  You can pay your 2019 dues at the door or online at: http://www.reaganclubco.com/membership-dues/
Be engaged and informed at our Thursday meeting.  Pinch hitting for our previously announce
d speaker, Patrick Neville, is former state senator Tim Neville.  Tim has graciously 
agreed to fill in for son Patrick who has a business matter to attend to.  Tim has been a welcome guest at Reagan Club before.  We look forward to Tim's news and analysis. 
We know February 14 is on the calendar for other than the Reagan Club meeting — we'll be marking that, too!
See you the 14th.
If you are planning to attend,  Continue reading →
Effort launched to repeal Taxpayer's Bill of Rights; possible ballot issue before the Title Board
The Title Board is the first step in putting a citizen-initiated question before voters.
TABOR is a constitutional amendment that was passed by voters in 1992 that requires voter approval to increase taxes or take on new debt.  It also limits the growth of a portion of the state budget to a formula of population growth plus inflation. It has been a controversial topic since its inception, and it's been debated in the courts numerous times.
Many Democrats say it is a threat to Colorado's education, transportation and health care funding, while Republicans counter that it is what has allowed the Colorado economy to prosper, as well as allowing Colorado to more easily weather economic downturns than states that lack taxpayer protections such as TABOR.
Many attempts to repeal or tweak portions of the amendment have come before the Title Board. This is the first time, however, that anyone can recall where a full repeal of the amendment has been proposed.
In 2019, the Reagan Club of Colorado is moving our monthly meetings to the second Thursday of each month to inform and engage you from 6:00pm-8:30pm.  We've moved our meeting location back to CB & Potts (1257 W. 120th Avenue, Westminster, CO, 80234).  Admission is $5 for Reagan Club members and $10 for non-members.  Our 2019 annual dues are $30, $25 for 65+ years old seniors, $25 for elected officials, $15 for students under 21, and $55 for couples ($50 for senior couples).  Below is our tentative calendar:
Mar 14:  Steve House, former Colorado State GOP Chair
Apr 11:
May 9:
Jun 13:
Jul 11:
Aug 8:
Sept 12:
Oct 10:
Nov 14:
Dec 12:
Admin's note: Vote NO on 73. It's not "for the kids" as supporters of this TAX INCREASE say. This ballot question is a liberals spending dream and an end run around TABOR. Education already gets a funding increase every year since Amendment 23 passed in 2000. It's too bad that student's achievement results didn't rise. More money does not equal better outcomes. TABOR will survive this misguided attempt.
Ballot initiative seeks to increase taxes by $1.6 billion; could end Colorado's Taxpayer Bill of Rights
A controversial ballot initiative would raise taxes on Coloradans by $1.6 billion to increase funding for public schools if approved. Opponents argue it also would make the constitutionally protected Taxpayer Bill of Rights (TABOR) impotent.
Amendment 73, the Establish Income Tax Brackets and Raise Taxes for Education Initiative, seeks to amend the state constitution to replace Colorado's flat rate income tax with a progressive income tax. Individuals earning more than $150,000 would be taxed more and the corporate income tax rate would increase. The revenue collected from the tax hikes would go into a newly created Quality Public Education Fund.
The state constitution requires a 55 percent supermajority vote for the initiative to become law.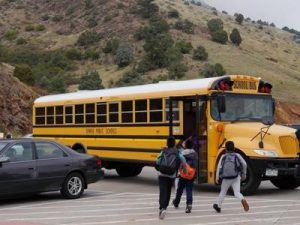 "'Take your success elsewhere' should be the signs erected if Colorado approves Amendment 73," Penn Pfiffner, former state legislator and chairman of the board of the TABOR Foundation, told Watchdog.org. "The Taxpayer's Bill of Rights properly treats everyone equally, requiring the same income tax rate be applied to everyone. Currently, if you make more money, you pay more, but only at the rate that everyone else pays. This proposal would change that, bringing an attitude that the upper middle class and wealthy should be attacked and made to pay increasing amounts. It is the worst concept in raising taxes."
A group of opponents of the measure launched a "Blank Check. Blatant Deception. Vote No on 73," campaign, arguing the ballot language is deceptive. It tried to have the question removed after the required deadline and Colorado's secretary of state rejected its complaint. Continue reading →
Join the Reagan Club this Thursday, October 4th as Michael Fields will discuss the pros and cons of each ballot initiative on your November 6th Mail-in Ballot.  He will explain the who, what, why, when, and costs of each.  So many questions to vote intelligently but we have the have the answers!
Doors open at 6:00pm with the meeting starting at 6:30pm and dinner served after the prayer and announcements.  We meet at Amazing Grace Community Church, 541 E 99th Place in Thornton.  Admission is $20 for Reagan Club members and $25 for non-members.  Elected officials and announced candidates are $15.
Save $5 by buying your tickets before October 2nd on our website (www.ReaganClubCo.com/meeting-tickets).
Bring your questions as we'll find out what is best for Colorado.
See you there!
Michael Fields is the Executive Director of Colorado Rising Action. He was previously the State Director of Americans for Prosperity – Colorado. He brings years of educational, legislative, grassroots organizing, and nonprofit experience. He has also served as a policy aide at the Colorado State House and as a press aide for the Senate Committee on Health, Education, Labor & Pensions. He taught both elementary and middle school at a charter school in Aurora – and now serves as the governing board president of that school. Michael graduated from Valparaiso University and earned his J.D. from University of Colorado – Boulder. He and his wife, Mele, and their three children live in Littleton.–
Michael Fields
Executive Director
Colorado Rising Action
720-218-9478
Michael Fields leaves Americans for Prosperity to lead Colorado Rising Action
Author: Joey Bunch – July 30, 2018 – Updated: July 30, 2018
Michael Fields (Photo courtesy of Americans for Prosperity)
Michael Fields is leaving Americans for Prosperity to head up a conservative organization that aims to press Colorado liberals on the issues.
Colorado Rising Action announced Fields as its executive director Monday. The organization is a state-based offshoot of America Rising Squared, which is an offshoot of America Rising, a group known for tracking candidates and opposition research.
The nonprofit is much like the liberal nonprofit ProgressNow Colorado, except for the right.
Colorado Rising Action said in a press release it plans to "advance conservative principles through cutting-edge research, rapid response communications, a nationwide tracking network, and digital platforms."
Fields, 31, previously was state director for Americans for Prosperity Colorado. Last year he became senior director of issue education nationally for AFP's foundation.
"Michael has years of experience at all levels of government and brings incredible insight into Colorado politics and policies," Joe Pounder, America Rising's founder and president, said in a statement. "Colorado is in danger of its status as a 'purple state' turning blue, but Colorado Rising Action has even more talent on the ground now to make sure that liberal politicians and special interest groups answer to Coloradans."
To be clear, Colorado Rising Action is not affiliated with Colorado Rising, a group seeking to get an initiative on the November ballot to require 2,500-foot setbacks from homes and businesses for oil and gas operations.
Colorado represents the organization's second foray into state politics, joining Missouri. Colorado, however, becomes the only state with an executive director and a press person, Lindsey Singer, the niece of billionaire investor Paul Singer, who is a major donor to America Rising. Lindsey Singer grew up in Boulder and attended Fairview High School and the University of Colorado Boulder.
They are joined by adviser Matt Connelly, who formerly worked on Republican gubernatorial candidate Walker Stapleton's campaign. Though he continues to work for Denver-based Clear Creek Strategies, the firm running Stapleton's campaign, he cannot by law coordinate between the campaign and the nonprofit.
"Colorado is a great place to live and raise a family, and the work I've done with AFP and will continue to do with Colorado Rising Action will ensure it stays that way," Fields said in a statement Monday. "As a new part of the incredible network of conservative organizations in Colorado, we will make sure that Coloradans know what liberal special-interest groups and their politicians are doing, and the impacts they'll have on our state."
A former pitcher at Valparaiso University and teacher in Aurora, Fields joined AFP after working as a policy aide for Republicans in the Colorado legislature and for Wyoming Republican Sen. Mike Enzi, as well as working on local, state and federal political campaigns.
ProgressNow Colorado executive director Ian Silverii was amused by his conservative competition, characterizing it as "Regress Later."
He pivoted to the November election. It's what political advocacy groups do.
"This Washington, D.C.-based organization is a front group to help Walker Stapleton continue to fall upwards in his so-far disastrous career," Silverii said in response to Fields' announcement. "All the out-of-state money in the world can't cover up the fact that Stapleton is an absentee treasurer, a sloppy campaigner and a vocal Trump supporter who does not deserve the promotion he's asking Coloradans for."
Singer responded to Silverii's take:
"We're looking at races from the governor's race, AG race, some congressional, and state house, state Senate and even watching the ballot initiatives and what liberal groups are doing in Colorado It isn't about one candidate or one race, and we're going to be around long after the 2018 election season."
Click (HERE) for the link to see and/or download the 2018 Colorado Blue Book.
How Republicans Could Still Win
A forthcoming poll suggests ways they can persuade voters in swing districts.
By Kimberley A. Strassel
Sept. 13, 2018 6:58 p.m. ET
Primary election voters at a polling station inside Boston City Hall, Sept. 4. PHOTO: CJ GUNTHER/EPA-EFE/REX/SHUTTERST/EPA/SHUTTERSTOCK
This was a week of gloomy midterm polls for the Republican Party, with a wave of results projecting a Democratic takeover of the House and maybe even the Senate. But not all polls are created equal. If Republicans bother to read just one, it should be a yet-unreleased survey that tells a more nuanced story.
The data come courtesy of the Club for Growth, a conservative outfit that plays to win. The club's donors expect it to place smart bets in elections, which it can't do if it relies on feel-good data. It uses WPAi, the data firm that in 2016 found Wisconsin Sen. Ron Johnson really did have a shot at re-election, then crafted the messages that got him the money and votes for victory.
WPAi just handed the club in-depth polling of the people who matter most this midterm—1,000 likely voters in 41 competitive House districts. The results are quietly making their way to Republican leaders, and the club agreed to give me an advance look. Bottom line: Many of these races are winnable—if Republicans have the courage of their convictions and get smarter in tailoring their messages to voters.
On the surface, the results mirror other recent polls. President Trump has a net-negative approval rating across these districts, with his unfavorable ratings notably high among women (57%), independents (58%) and suburban voters (52%). Those who answered prefer a Democratic Congress that will check Mr. Trump (48%) to electing Republicans who will pass his agenda more quickly (42%). The biggest alarm bell is the 12-point enthusiasm gap—with 72% of Democrats "very interested" in this election, compared with 60% of Republicans. In suburbia, the 12-point gap widens to 24.
Yet this thundercloud has silver linings. One is that Republicans still hold a 3-point lead on the generic ballot in these districts, meaning they have a real chance if they get their likely voters out. An even bigger opening: Approximately 25% of those polled remain "persuadable" to vote Republican—if they hear the right things. Continue reading →